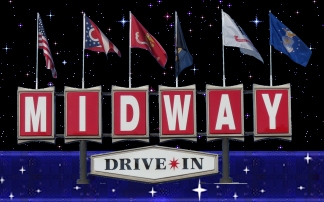 Midway Twin Drive-In Theatre - Ravenna, Ohio - 2 Screens
Midway Twin Drive-In Theatre
2736 OH-59
Ravenna, Ohio 44266
Admission & Concession
Credit Card Policy
Midway Twin Drive-In Theatre
Looking for a great Christmas gift?
How about a TAYLOR SWIFT COLLECTOR POPCORN BUCKET, DRINK CUP, and a voucher for 1 free popcorn on your next visit.
$24.99 including shipping.
ORDER HERE!
-Closed For The Season-
"Thank you to all that visited and supported us"
Think Spring!
Gate Opens:
Admission:
Hope To See Everyone Under The Stars!